CONCEPT

Mago Giapponese, it means "Japanese magician".
The thought that we want to express in this word The art pieces that only Japanese could make The pieces that only we, who attach mind to creation, could make The value that only gold and platinum could add..
So far, precious metal products in general have been produced just considering differentiation of asset value and of different shapes. On small ornamental pieces, designers have applied stones or they shaped the pieces into flowers. As the time passes, the most updated technology, in addition to the traditional techniques made us wish to draw a world on such a small campus as a ring, by using platinum that is difficult to process and gold, and by combining the different colors that each metal has. This will be a small universe created by innovative technology, that holds the characteristics of metals whose colors will never fade away after years. And then, our "magicians" (craftsmen) were able to create rings that nobody were never ever able to create.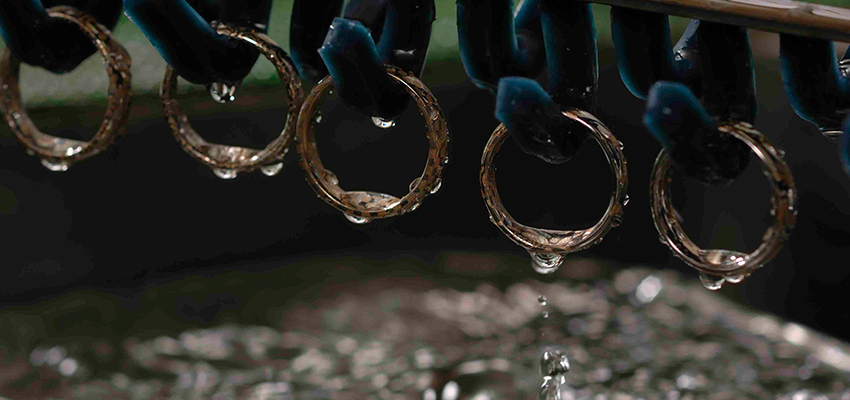 With the respect to Italian goldsmiths who have led the world from the Renaissance period when they first flourished, and with the pride Japanese keep in the creation, we named the brand, "mago giapponese".
Traditional Japanese patterns, seasonal plants, animals and insects that live desperately in the harsh nature. Letters, numbers that men have given meaning. We are dreaming that these symbols will be a definition of our works and will be the icons of our existence in this chaotic world.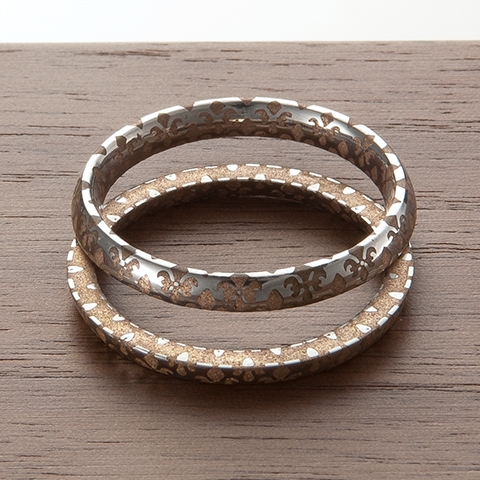 Technology Behind Mago Giapponese
Mago giapponese is produced by the technique we call "CHU-GAN" (casting-inlay) which is distinct from the conventional ring manufacturing technique (the manufacturing process is "patent pending").
This technology uses two metal alloys (platinum 900 and 18-karat gold) which have high melting points and are difficult to process. Rather than using the surface coating technique, it combines the two metals as the ring framework, which causes the pattern to remain for a long time even though the ring is put on a finger.In addition, the metal-to-metal joint without a position gap will prevent the 18-karat gold pattern from flaking or separating from the framework. We, who have been involved in the production of jewelry for a long time, have never seen a ring using this cast inlay technology be commercialized anywhere in the world.Therefore we can say with confidence that the ring is the outcome of "technology originating from Japan," which is unmatched in platinum processing.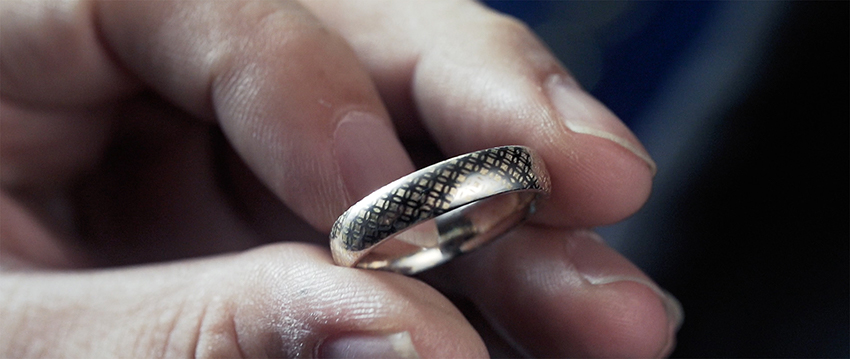 Upon receipt of an order, because the rings are produced through processes that include machine processing to realize exceptional accuracy to match the size of each and every customer and grinding and finish machining by craftsmen who meet our strict in-house technical standards, we are able to currently produce about 50 pieces per month. We are willing to devote ourselves to continue refining this technology and express various "worlds" on the rings.